To begin with – I won a thing!!!
My Vintage Vertical Stripe CAL group on Ravelry held a contest draw in February and I won FIRST PRIZE!!!!!  I have no idea what I've won, but as soon as it comes in the mail, I'll let you know.  I'm so excited!
As promised, I have some photos of my Arabian Nights stole:
So pretty.  Unfortunately, I haven't been able to work on it this week due to other projects needing my time but I'm back to it next week.
Danny's Nordic Grey Socks are done.  These are pair #5 for the year:
I also whipped off a pair for me – Ravenclaw Frankensocks (Pair #6)
As their name suggests, they are made up of 4 different DK/sportwt stash wool yarns.  The main yarn is Patons Double Knitting, the short-row heel is Smart, the toe is made up of Tapestry yarns (as are the stripes).
I honestly had half the first sock done without realizing that I was knitting one.  I was watching Willy Wonka at the time so I blame the mesmerizing effect of Gene Wilder.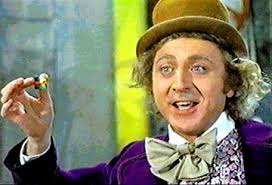 Nothing against Johnny Depp (ooohhh Sweeny Todd!), but this is the REAL Willy Wonka film.  How I love this movie.
See – sidetracked again.
I also started a new pair as part of my Knitting Vintage Socks KAL.  We had 2 patterns to choose from this time – Gentleman's Socks with Lozenge Pattern or Fancy Silk Socks.  I made a pair of the silk socks a while ago:
(Tomato Patch Socks – Fleece Artist Merino & FDC Zara)
so I'm going with the other one.
These I'm calling these "Carnivale du Printemps" (Pair #7) and they're out of Lorna's Laces Shepherd Sock "Watercolors" and a butterscotch fingering wt from the stash. I've altered the pattern to 70 sts on 2.25mm DPNs (I may switch to 2mm for the leg to avoid pooling).
The 12″ crocheted afghan square for this month is called "Cygnus" and here is my version:
again, out of Mission Falls 1824 Wool and the last of the black Georga 100% Wool.
I've actually decided to forgo the mitred squares to join all of these up and am going to make 12 filler squares in 12 more 1824 colours.
Yesterday, I motored away on the Luna Moth shawl because Wendy needs it before April.  I think I only have a couple more repeats to go, thank the gods.
Silk is not really forgiving to my wrists.
I completed Fiona's crocheted tote bag.  I ended up using some of my acrylic stash in beige (yay! – one more ball gone!) when I ran out of the rust Phentex.  General consensus is that it needs some retro flowers on it, but I'll let Fi add them on.
Swatching has begun for the Secret of Bad Nauheim shawl and here is mine:
Misti Alpaca 2-ply Laceweight (Natural Dark Tan) on 2.5mm needles.  I may go up to 3mm for the shawl, we'll see.
Today I spent working on a birthday gift for my sister Robin:
I used the Nordstrom Crocheted Hobo Bag pattern by Dao Lam.  I made it quite a bit smaller (about half the original size) for an evening bag.  I used Mary Maxim Parisienne DK in black and Berocco Metallica in black on black held together for the body of the purse (I only had an inch of the Berocco left when I reached the 1st sc rnd).  The handle is 6 chains of 50sts braided together.  I fully double-lined the bag with a gorgeous plum coloured fabric, added a snap closure and matching grosgrain ribbon.  Ta-da!  I hope she likes it.
I think it's adorable – and it sparkles!
This weekly update thing seems to be working for me, so let's see if I can stick with it.
Best wishes all!